WHIMSICAL POP-UP FLOWER BOUQUETS
Lasting keepsakes and charming decorations that are perfect for gifting.
Don't Just Take Our Word For It ...
★★★★★

Great Lasting Alternative
we are all so happy to get fresh cut flowers and so sad to see
them fade sooner or later. in this case - the joy, beauty and great look LASTS FOREVER!!! Thanks, I think that is a great idea :)
★★★★★

GORGEOUS!!

These are so much more beautiful in person! What a wonderful way to show someone you are thinking of them! I will definitely be buying more! I love that there's a small card inside that matches. Great product, I highly recommend them!
★★★★★

Almost as good as the real flowers!

They are beautiful. Sent them to my sister in law and she loved them. She said she is going to keep them on the Mantel all year long. My mother who turned 100 was the person who first got them and then I wanted to order some!
★★★★★


Yellow Tulips

Best deal out there Ladies! They look prettier each day (only
negative is they don't smell) and you don't have to water them....They will last long after the real Tulips are done blooming. Wonderful seller to work with, great selection, fair prices and SUPER fast shipping. Thank you for you fine products.



★★★★★

Happy Surprise

This was given to a nurse for appreciation. It brought tears to her eyes. This gift is on her stand and she doesn't have to water. Everyone sees it and is happy seeing this item.

I have ordered more (white roses) for gifts. Your items are SO beautiful!
★★★★★

Beautiful Daffodils

I found FreshCut Paper while searching the web for three
dimensional Easter Cards. Oh my goodness what a find! They are absolutely beautiful! I purchased sets of each type and I couldn't have been more pleased with the quality and beauty of the cards. They are truly a work of art! The FreshCut Team is also very helpful and like talking with your friends when I needed tech support. Thank you FreshCut Paper for such a wonderful company!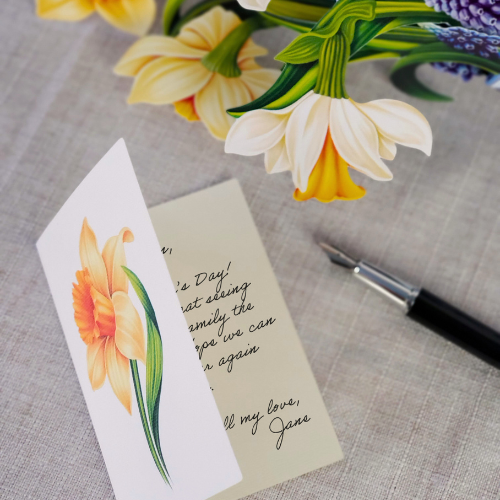 PERSONALIZE IT
We'll Send Direct
Select "add a personalized gift message" to any bouquet, and for an additional $5 we will print your personal note on a matching card and tuck it in the bouquet. Let us ship it directly to your recipient!